Tagged with: Ghostcrime
---
May 31, 2023
Mirth Turtle takes flight
Nothing kills the momentum of a technology-based business like a lack of dev time, revenue, marketing, in-person appearances, and hope for the future. But once spring returns, along with the sun, there's sure to be a boost in all areas. To leverage this, Mirth Turtle is launching a new Go airline! Let's just hope I have enough runway.
Something else to blame for killing business momentum is the shifting online landscape. With the slow, sad collapse of Twitter and subsequent failures of various Mastodon servers I migrated to, I was lacking a reliable social network on which to post cat pictures and Go memes. But not one to wait around for some billionaire to hack together the next misinformation machine, I built one of my own where only I can post! Along with consolidating underappreciated bangers from years past, it sends out weekly newsletter-style emails so you'll never miss a post because of a corporate algorithm. Now I have reliable microcommunication and I don't have to deal with randos challenging my correct opinions or posting their own.
In more chilling news – this year has brought the grave uncertainty of AI. Now that those electric brains are threatening to upend even my backup careers, it feels timely to look back at my 2015 novel Ghostcrime, in which I predicted an eerie amount of this cold robot future (but not, unfortunately, soon enough to stop it from happening). Here at Mirth Turtle HQ, Dawn's working hard on a new edition with more bonus appendix material, an updated cover from Bruce and even a tabletop RPG! Keep an eye out for that... as well as any genius-level logic machines attempting to steal your livelihood.
---
Jun 11, 2018
Advanced Melon Techniques
Hello. I've been doing a bit of melon-driven marketing recently, so if you're visiting because of that, high-five. Now that you're here, perhaps you'll consider buying a book. It's been said that Ghostcrime is very funny.
Speaking of marketing, I've been doing more work on ScaleQuail lately, and I'm deep in advertising hell, as you can probably tell from the recent melon initiative. Please bear with me for a few weeks.
---
Dec 11, 2017
A Holiday Sale
Not a lot to report re: new stuff, but now, just in time for gift-holidays, you can get all three of my books -- that is, Ghostcrime and the first two volumes of Snapback, in a bundle for just $40 plus tax. I'll even pay the shipping within Canada.
Buy buy buy buy buy buy buy read read read read read read read read read read read
---
Jul 29, 2017
A webstore upgrade
This was a long time coming, but I made some upgrades to this very eBook store. Now there are specific pages for each eBook, featuring 3D representations of the books themselves with samples you can flip through! We're living in the future.
Things are also looking slightly better, which I'm hoping will improve sales. SPEAKING OF SALES, there is a discount if you buy Ghostcrime and Snapback Vol. 1 together. Do it. Come on.
You also might notice the new Digital Popularity Indexes above. These give you valuable real-time business insight into my digital publishing operation. Data, it's said, drives success.
---
Jul 16, 2017
On Writing (Novellas)
I buckled down this summer and finished Snapback Volume 2! It ended up about 5,000 words longer than the first volume, and I think it's considerably better. But you'll have to wait for September to decide for yourself. I'll have copies at Hal-Con.
Writing one novella per year, I've found, is a manageable task. Even with a full-time job, I've been able to muster up the motivation, two years in a row, to produce something that's 20-25k words. It's not a lot, and in years past, I've produced far, far more.
Ghostcrime was different. I really got going in 2009, when I was unemployed, and I wrote about 40k before burning out and putting it away for half a decade. When my life stabilized, I picked it up again and wrote the second half in 6 months, producing the masterpiece that we all love. But it was a considerable effort that drained me, and in the ~7 years it took to fully produce, I had nothing to show for it until the end.
The idea with Snapback is to produce and release consistently. To always have something new to sell at the conventions, and keep improving my writing and publishing process with faster iterations. So far, it's been working. And in a few years, I'll even have something I can push together into a single volume.
What would it take me to write another novel? Money and time, probably, in large quantities. But even if I devoted all my energy to producing a novel, I don't see why I wouldn't release it in serial. There were complaints when the seventh Harry Potter film would be split up into two parts, but does anyone care that they're not a single work now? If you can watch them one after another, what's the difference?
So those are my thoughts on big writing projects. But who knows -- maybe you're more productive than me and more disciplined, and you can write a novel without having your life fall apart as you do it.
I look forward to reading it.
---
Dec 1, 2016
A Snapback Review
On the subject of events that make me feel like a legitimate author, Halifax alt-weekly The Coast just published a review of Snapback! Thanks to Adam Fiske for writing those words.
The book is available now in paperback, ePub, and PDF. And there's still a $2 discount if you buy the digital edition along with Ghostcrime, a thing I wrote that also has reviews.
Buy them for yourself, or as solstice-holiday gifts! You... do know you're obligated to spend money on people you love, right?
---
Sep 9, 2016
Word on the Street
Hello readers! If you do, in fact, enjoy reading, I'd be surprised if you didn't come down to the most prominent book festival in the region and elsewhere, Word on the Street.
I'll be at the Hal-Con table with some other local nerds, so head over, say hello, and maybe even pick up a copy of Ghostcrime. And if you don't actually enjoy reading, I'll know. I can sense these things.
Oh, and in completely unrelated badger news: I finally migrated my badger blog from its almost 7-year home on Blogspot to this site! Now's a great time to catch up on our adventures. What, do you not like badgers either? I find that hard to believe.
---
Aug 16, 2016
New tie-in for Ghostcrime!
These days, you might expect a tech-savvy (or well-funded) novelist to release a tie-in game along with their new book. While I've got a game in the works to go with the re-release of my cat thriller Gray, I'm going a slightly different direction with Ghostcrime.
The first difference you'll notice is that I'm only doing this now, and I released Ghostcrime a good 10 months ago. Listen, I had other stuff going on, okay? I hadn't even built the eBook store yet.
But also, instead of a tie-in game, I've built a tie-in CRM!
This application keeps track of your contacts, your obligations to them, upcoming meetings, and recurring tasks you need to remember. It also keeps track of all the books you're reading right now and ideas you've had, nudging you to complete them when you'd ordinarily go do something else, like watch TV.
Now, unlike the sad protagonist of Ghostcrime, you can sort your life out with technology's help! It's called ghostCRM.
That's the joke.
---
May 22, 2016
2nd edition of Ghostcrime printed!
It's not that the first edition was bad. The margins were slightly too small, so you really had to open them up to get into the middle of the page. The covers were a little dark, maybe. Wasn't a barcode on the back cover.
But this next edition. Oh man. Does it ever fix all of those problems!
Right now they're gathering a little dust in the office, but soon the first bunches are going out to local bookstores, where their new barcodes will be scanned by skeptical proprietors. I'm also putting aside a bunch for Hal-Con 2016, which I recently found out I've got a table at. See you in 5 months? I don't usually make plans this far in advance.
---
May 1, 2016
Spring Cleaning
Happy spring, everyone! Geequinox was great, and I was really pleased that a few people stopped when they saw I was selling books. Even moreso that no one said, "I hate books! I hate reading!". That's right, person-at-Hal-Con; I'll never forget you.
Sort-of-chilling jokes aside, I sold a bunch of copies, and the people who bought them seemed like the type who'd enjoy them. Hopefully they're also the type to leave reviews on Goodreads. I've got international markets to enter here.
Since the convention, I've been doing some seasonal cleaning in preparation for the coming months. There'll be a few new releases, including the second edition of Ghostcrime and the long-awaited Snapback serial novel. Better set aside some time in your digital calendar for reading, because, if nothing else, it's a good habit to get into.
---
Apr 11, 2016
Christian "@" Geequinox 2016!
I'm mostly a recluse, but occasionally I try to get out and interact with my readership. And while meeting all three of them is pretty overwhelming, it's also very rewarding.
So come down to Spring Geequinox 2016 at the Halifax Forum on April 23rd and 24th and say 'Hi', and if you buy a copy of Ghostcrime, I completely understand.
Each copy comes with a free gift! The remaining first editions won't last long.
---
Nov 26, 2015
Actually did publish that book
I moved last month, and among the things that got lost in the shuffle, I forgot to tell you that I published Ghostcrime!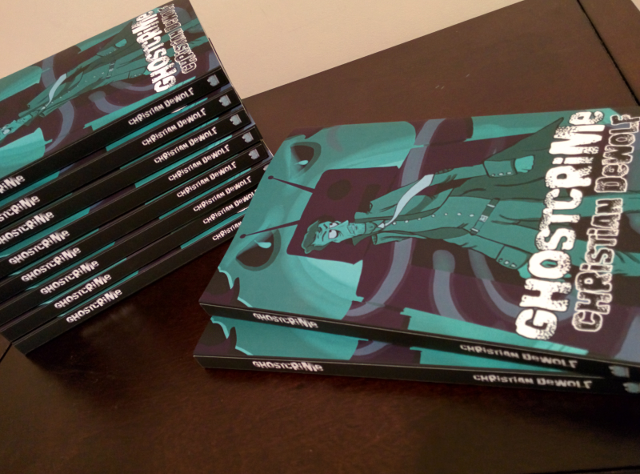 With covers and everything. I really went all out. Anyway, that was about three weeks ago, but no big deal -- kind of did a 'soft launch' and sold a pile of them at the local sci-fi convention Hal-Con. Great experience overall, though I had to pretend I wasn't a total recluse, and that was pretty taxing.
Right now, I'm building my own digital distribution system for the eBook release. The big online retailers have been taking their cut of my profits for too long, and for what? Putting my work alongside shameless erotica and crackpot memoirs? No longer. In a few weeks, I'll see if I can remember to tell you that it's done.
Until then: if you can't wait to get your hands on Ghostcrime, printed on actual paper and signed by the author, you can order a copy today! Also, I've been paying the shipping (which I probably shouldn't be doing? eh) so depending on how far away from Atlantic Canada you live, you might get a pretty good deal.
---
Aug 22, 2015
New book forthcoming
If you like your sci-fi, horror and comedy all mashed together, you'll love this new book that I've written, Ghostcrime! In just over two months, I'll have an edition printed, and hopefully an ebook shortly after. Do you feel that? It's adrenaline. Go see a doctor if it gets unbearable.
---