Tagged with: books
---
Aug 16, 2016
New tie-in for Ghostcrime!
These days, you might expect a tech-savvy (or well-funded) novelist to release a tie-in game along with their new book. While I've got a game in the works to go with the re-release of my cat thriller Gray, I'm going a slightly different direction with Ghostcrime.
The first difference you'll notice is that I'm only doing this now, and I released Ghostcrime a good 10 months ago. Listen, I had other stuff going on, okay? I hadn't even built the eBook store yet.
But also, instead of a tie-in game, I've built a tie-in CRM!
This application keeps track of your contacts, your obligations to them, upcoming meetings, and recurring tasks you need to remember. It also keeps track of all the books you're reading right now and ideas you've had, nudging you to complete them when you'd ordinarily go do something else, like watch TV.
Now, unlike the sad protagonist of Ghostcrime, you can sort your life out with technology's help! It's called ghostCRM.
That's the joke.
---
Aug 8, 2016
Between contracts
There's nothing like the pseudo-holiday of self-employment. Since a contract came to an end last Friday, I've been jetting around the country, specifically to cities in BC. That province has got it together.
But now I am back in Halifax and ready to buckle down again. I've got to finalize the edits for Snapback before I publish it, and there's some web stuff for friends to polish off. But other than that? I bought an irresponsible number of books on the west coast, mostly sci-fi, so I'll probably just read until it's fall.
Unless, of course, you need me to build you a data-rich web application! Or, if you have an old/broken app that needs a breath of life, that's what I do best. Let me know.
---
Nov 26, 2015
Actually did publish that book
I moved last month, and among the things that got lost in the shuffle, I forgot to tell you that I published Ghostcrime!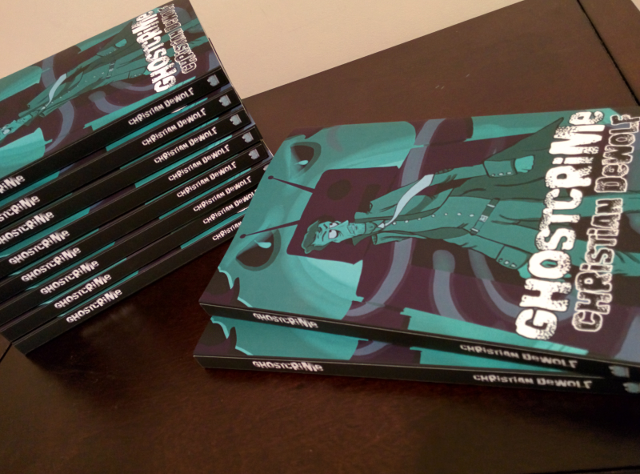 With covers and everything. I really went all out. Anyway, that was about three weeks ago, but no big deal -- kind of did a 'soft launch' and sold a pile of them at the local sci-fi convention Hal-Con. Great experience overall, though I had to pretend I wasn't a total recluse, and that was pretty taxing.
Right now, I'm building my own digital distribution system for the eBook release. The big online retailers have been taking their cut of my profits for too long, and for what? Putting my work alongside shameless erotica and crackpot memoirs? No longer. In a few weeks, I'll see if I can remember to tell you that it's done.
Until then: if you can't wait to get your hands on Ghostcrime, printed on actual paper and signed by the author, you can order a copy today! Also, I've been paying the shipping (which I probably shouldn't be doing? eh) so depending on how far away from Atlantic Canada you live, you might get a pretty good deal.
---